Falls Links 
 October 2021 | Issue 5 
Welcome to our newsletter
Save the Date!
NSW Fall Prevention and Healthy Ageing Network 2022 Annual Falls Forums
Friday May 27th, 2022
Wesley Conference Centre, Sydney

Registrations are still open for the 9th Biennial ANZFPS Falls Prevention Conference.
This year's mantra is 'Live Stronger for Longer' underpinning the desire to promote strength, independence and wellbeing in ageing. The Conference aims to explore prevention, understanding and mechanisms of falls as well as the broader challenges of engaging communities and the implementation of best practice policy
Key note speakers include:
Prof Teresa Liu-Ambrose, Department of Physical Therapy, University of British Columbia.

Prof Dawn Skelton, Glasgow Caledonian University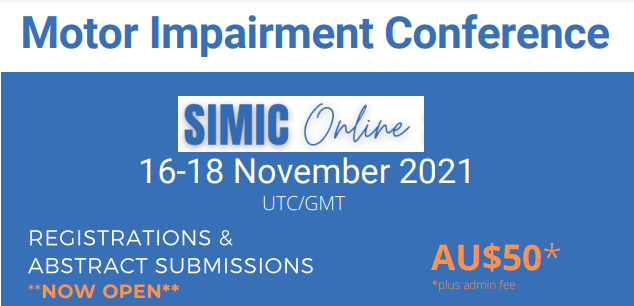 This meetings aims to help clinicians and researchers better understand the pathophysiology of Motor Impairment, to implement interventions, and to drive enhanced clinical practice.  Much is still unknown about fundamental mechanisms of Motor Impairment, and about its prevention and treatment.
Invited Speakers Include:
Prof Andrea Maier, Director Centre for Healthy Longevity, National University of Singapore
A/Prof Marike Van Der Shaaf, Amsterdam University Medical Center
A/Prof Michael Lewek, Department of Allied Health Sciences, University of North Carolina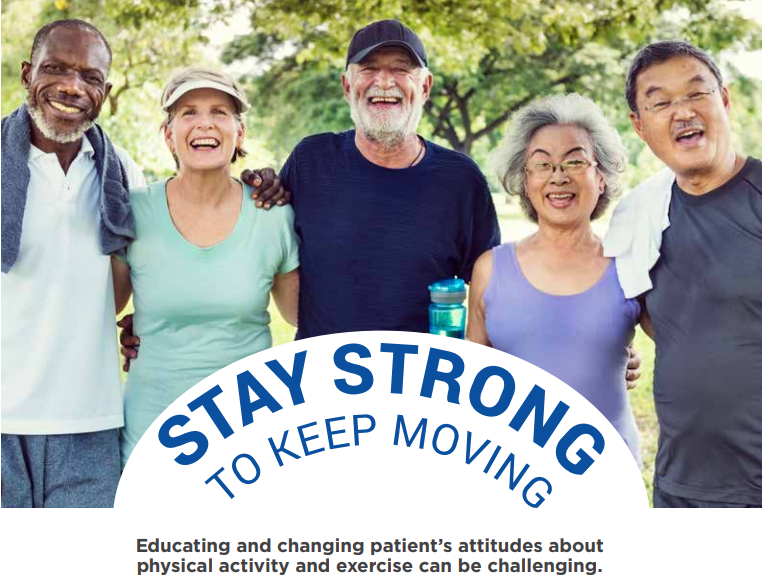 Arthritis NSW, Diabetes NSW & ACT, the Heart Foundation and COTA NSW are working together on a campaign called "Stay Strong to Keep Moving" to provide a range of programs that GP's can easily refer their patients to. The referral process is simple and patients use QR codes to access, one or any number of the programs on offer near them. The programs are designed to provide a supportive environment that will encourage:
participation in aerobic and/or resistance exercise
independence and self management
social connectedness and inclusiveness
Research Update
Impact of a fall prevention education program for health and exercise professionals: a randomised controlled trial
Tiedemann A, Sturnieks DL, Hill A-M, Lovitt L, Clemson L, Lord SR, Sherrington C. Impact of a fall prevention program for health and exercise professionals: a randomised controlled trial. Public Health Res Pract. 2021;31(3):30342013.
Abstract
Objectives and importance of study: Exercise prevents falls among community-dwelling older adults. Therefore, it is crucial that health and exercise professionals have the knowledge and skills to prescribe appropriate fall prevention exercise. This study evaluated the effect of a fall prevention education program, compared with a waitlist control group, on health and
exercise professionals' fall prevention knowledge and behaviour, and their confidence to prescribe fall prevention exercises for older people.

Study type: Randomised controlled trial.

Methods:
Participants were 200 health and exercise professionals recruited in New South Wales (NSW), Australia. The intervention group participated in a 1-day face-to-face education workshop on exercise to prevent falls in older age. The waitlist control group received the education intervention after completion of the 3-month follow-up. Primary outcomes were self-reported
fall prevention knowledge, and change in prescribing behaviour for fall prevention exercise. Secondary outcomes were: confidence to prescribe fall prevention exercise; proportion of people aged 60 years and older seen in the past month who were prescribed fall prevention exercise; and proportion of fall prevention exercises prescribed in the past month that were
evidence based. Data were analysed using analysis of covariance models for continuously scored outcomes and the differences in proportions between groups (relative risk [RR]).

Results:
The intervention significantly improved knowledge (between-group difference [BGD] 0.27 points out of a possible 6; 95% confidence interval [CI] 0.03, 0.51; p = 0.03), perceived clinical behaviour (RR 5.58; 95% CI 3.25, 9.59; p < 0.001), confidence (BGD 1.02/10 points; 95% CI 0.65, 1.39;  < 0.001) and the proportion of evidence-based exercise prescribed, in
both the number of exercises (BGD 0.36; 95% CI 0.03, 0.68; p = 0.03) and percentage of participants who prescribed at least 2 hours/week of fall prevention exercise (RR 1.53; 95% CI 1.08, 2.15; p = 0.015).

Conclusion:
The education workshop significantly improved participants' knowledge, confidence and behaviour regarding fall prevention exercise prescription. 
Our vision is to lead the way in fall prevention and other healthy ageing initiatives by harnessing expert knowledge and being collaborative in all we do.
We work closely with researchers, policy makers, health practitioners and community service providers in the development and promotion of healthy ageing services and programs with a focus on preventing falls and fall-related injury.
Our purpose is to support practitioners to improve the lives of older Australians through healthy ageing initiatives with a focus on preventing falls and fall-related injuries.
Do you have any news on Falls Prevention or healthy ageing that you want to share with others on the network, or report on a project that is happening in your area. We also welcome suggestions for articles and information you would like to see in this newsletter. Send your news and suggestions to: fallsnetwork@neura.edu.au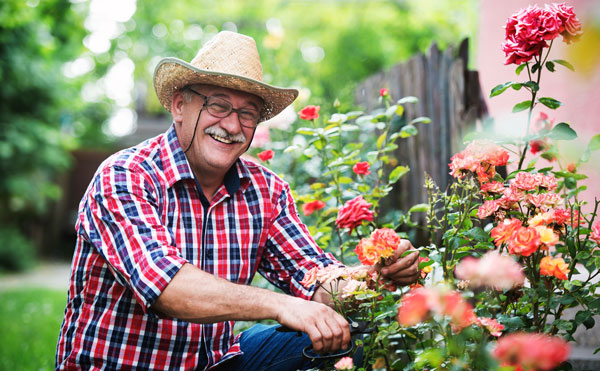 Contact Us:
Telephone +61 2 9399 1063
Email fallsnetwork@neura.edu.au
Our mailing address is:
NSW Falls Prevention Network
Neuroscience Research Australia
PO Box 1165
Randwick NSW 2031
Copyright © NSW Falls Prevention and Healthy Ageing Network